---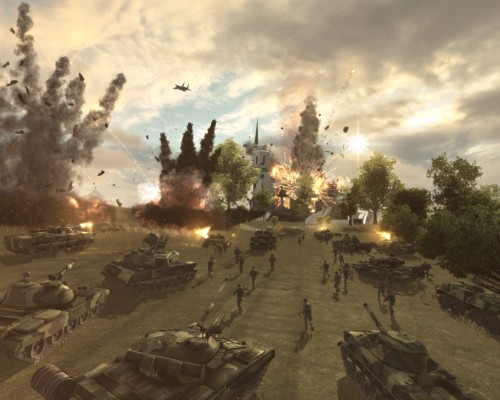 The nice thing about this system is that it effectively gives you an unlimited number or resources and units to work with, so it's fairly forgiving to nontraditional strategy gamers. If that seems a bit easy, don't worry, because World in Conflict can also ratchet up the pressure by tossing in time limits. For instance, you might have to seize a town in less than 45 minutes, or achieve another objective in far less time. The margins for error are much smaller when you're working under a deadline.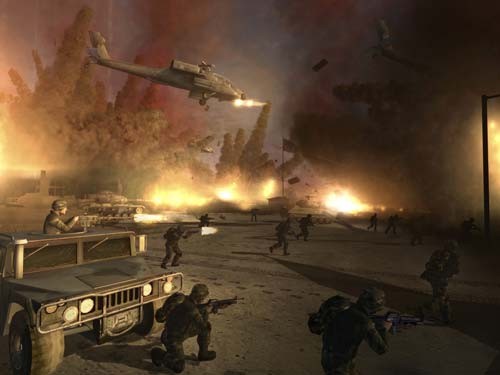 Aside from reinforcement points, the only other resource in the game is tactical aid points, which are accumulated whenever you perform a vital role on the battlefield. You earn points by killing the enemy, but you also earn points by seizing and fortifying objectives, repairing friendly vehicles, transporting infantry around the battlefield, and so on. Tactical aid is like the icing on the cake, because you can use these points to purchase all sorts of powerful and utterly cool things. You can call in air strikes, napalm strikes, cluster bombers, mortar barrages, artillery barrages, chemical warfare, airborne reinforcements, precision artillery, fighter cover, and much more. The ultimate tactical aid is also the most awesome one: tactical nuclear weapons. World in Conflict features the best-looking mushroom clouds in gaming, and when they go off the screen flashes white and you hear the high-pitched sound of electronics frying. It's essentially the chilling sound of death.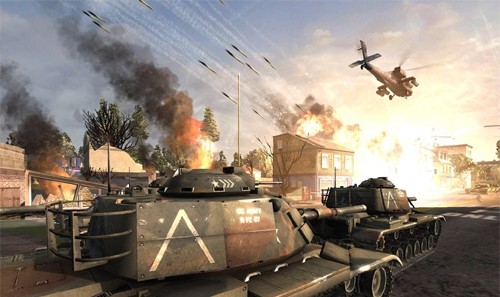 All of this takes place on large, dynamic battlefields that come alive with the symphony of destruction. Thankfully, there's barely any worry about collateral damage in the game, so if you have to destroy a city to save it, then don't worry about the insurance bill. The destruction isn't just cosmetic, either. There can be all sorts of tactical implications. Take out a bridge and you force the enemy to go the long way around, or, in a multiplayer game, to call in a tactical aid to erect a new one. If the enemy is hiding infantry in woods and buildings, making them hard to root out, call in napalm and just burn down the trees or use artillery or smart bombs to blow up the structures. Everything blows up so beautifully that there's no such thing as overkill anymore. The game looks spectacular in DirectX 9, and it's noticeably better in DirectX 10 thanks to more atmospheric lighting. If you only have a DX9 card, though, don't worry--you aren't missing out on any gameplay enhancements aside from the ability to use dual-monitor support in multiplayer games.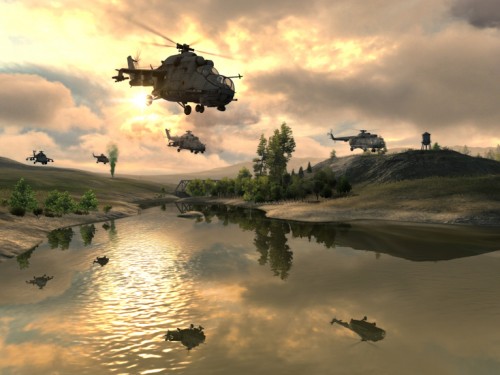 Pretty much everything in the game looks good, even up close. Move the camera low to the ground and you can make out all the gear on your individual soldiers. Pull the camera back and you can soak in vast landscapes. One thing the game does especially well is smoke. Drop a smart bomb on a building and it will not only explode in thousands of pieces, but it will send convincing pillars of black smoke skyward. After a heavy battle, the sky will turn black because there's so much smoke in the air. That's the incredible level of detail in this game.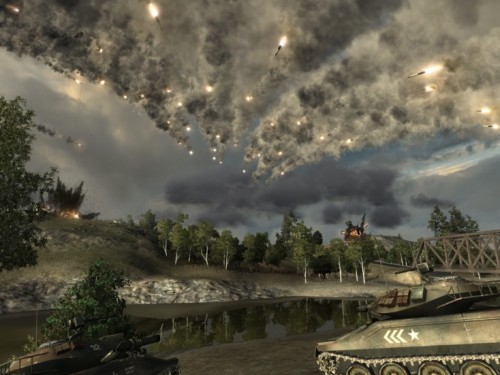 As good as the single-player campaign is, though, it pales in comparison to the multiplayer game, which is fast-paced and wonderfully balanced. Imagine the first-person multiplayer action game Battlefield 2 reborn as a real-time strategy game, and you have an inkling of how World in Conflict unfolds online. This is an insanely fun multiplayer game that lets you be part of a team of eight as you attempt to destroy the enemy using teamwork and every tactical weapon in the book.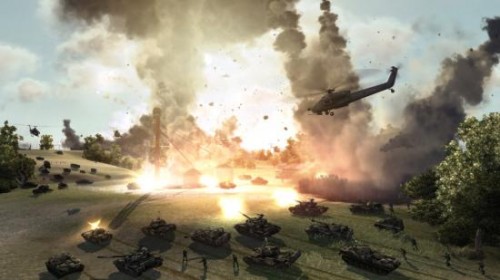 Everything about multiplayer is designed to get you in a game quickly and keep you there for hours on end. First, when you join a server there's no wait for the current game to wrap up before you can get into the fight. If there's a spot open on the server, you're deposited into the middle of the current battle when you join. Second, there's no downtime at all. In most RTS games, you spend the first several minutes hurriedly trying to gather resources and build a base and units. In World in Conflict, you order up your first set of troops and watch them parachute or airdrop in seconds later. Fighting unfolds within the first minute of each game, and it doesn't stop until the very end. Third, thanks to the resource system, if your units are wiped out you can order up some more and be back fighting within seconds.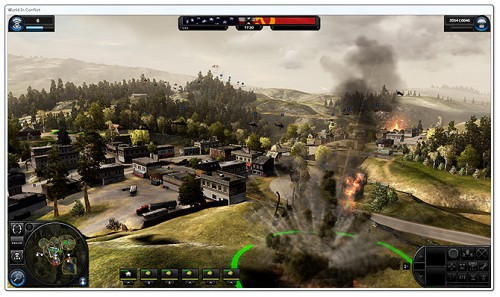 Team coordination can be handled through a built-in menu system or, even better, the built-in voice-over-IP chat system that lets you communicate vocally with your teammates. All you need is a microphone. Playing in a relatively uncoordinated manner is still a blast, but if you play on a good team against another coordinated team, the gameplay elevates to a whole new level. Victory can be snatched from the jaws of defeat (or vice versa) in intense matches where both teams are hurling all on the battlefield, from air strikes, artillery, multiple tactical nukes, and more. There's nothing quite more urgent than a team desperately trying to cobble together enough tactical aid points for a last-ditch nuke.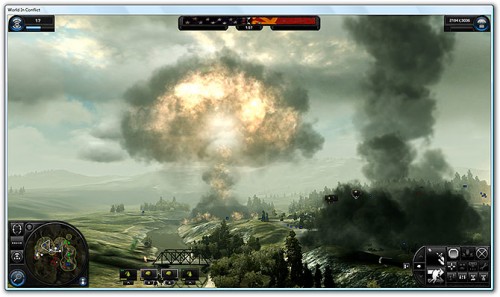 Developer Massive Entertainment has been making real-time strategy games for almost a decade now, but World in Conflict is undoubtedly the studio's masterwork. Everything about this game is top-notch, from the addicting gameplay to the amazing visuals. More importantly, World in Conflict offers up a refreshingly new approach to strategy gaming. So if you're a strategy fan, you should definitely try World in Conflict. And even if you're turned off by standard real-time strategy games, you owe it to yourself to try out what Massive has come up with in this exquisite package.